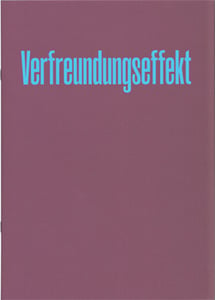 £

5.00 - On Sale
Limited edition of 300. 35pp.
The first release from Bathysphere Editions.
Verfreundungseffekt is a German-English language magazine exploring 'Germanness' and 'The Angloamerican' designed by Joe Hales and edited by Jen Calleja.
The magazine views cultures as 'mythologies' created by the tourist or the immigrant. This perspective raises questions about the performance, idealisation and stereotyping of nationalities, as well as the possibility and problems of translation and cultural understanding.
Verfreundungseffekt is a more ethnographic record of the modern-day émigrés moving from the UK to Germany/Germany to the UK/America compared to the academic, analysed and generalised accounts of these countries' history and culture. The magazine was formed from an appreciation of German culture and language and a wish to help promote it, and will stand as a document of the individuals who move between the world of the German and the world outside of it.
Inside you will find features, poetry, short fiction, reviews, essays, photography, illustration, und viel mehr.
To learn more, email editor Jen Calleja: email jenniferannecalleja [at] hotmail.com