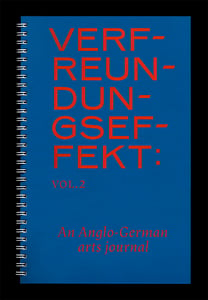 £

10.00 - On Sale
Limited edition of 200. 101pp.
This second release from Bathysphere Editions is the second volume of Anglo-German miscellany of the 'Veffekt' trilogy.
Verfreundungseffekt is a partly bilingual arts publication exploring 'Germanness' and 'Britishness/Americanness/Australianness' designed by Joe Hales and edited by Jen Calleja.
The volume includes brand new translations of poetry, fiction and theatre; short fiction and poetry; illustration; photography; essays; interviews; reviews; and personal accounts, and covers topics as far-ranging as feminist approaches to art and Iraqi cultural trauma to the Australian music industry and The Simpsons.
The magazine views cultures as 'mythologies' created by the tourist or the immigrant. This perspective raises questions about the performance, idealisation and stereotyping of nationalities, as well as the possibility and problems of translation and cultural understanding.
Verfreundungseffekt is a more ethnographic record of the modern-day émigrés moving from the UK to Germany/Germany to the UK/America compared to the academic, analysed and generalised accounts of these countries' history and culture. The magazine was formed from an appreciation of German culture and language and a wish to help promote it, and will stand as a document of the individuals who move between the world of the German and the world outside of it.
Contributors for this issue are: Sophie Alda, Rita Calvo, Peder Clark, Lindsay Corstorphine, Laura Diehl, Silke Eiselt, Agatha Frischmuth, Thomas J. Hughes, Eric Jarosinski (Nein Quarterly), Rebecca May Johnson, Uwe Johnson, Mona Kriegler, Alex MacDonald, Simon Marsham, Joachim Meyerhoff, Stephen Noon, Kathryn O'Regan, Richard Phoenix, Magnus Pölcher, Heinz Riegler, Sam Riviere, Charlotte Ryland, Katie Scott, Laura Simmons, Laura Tenschert, Susan Thorne and Lillian Wilkie.
To learn more about Verfreundungseffekt editor Jen Calleja: jenniferannecalleja [at] hotmail [dot] com
Available to buy from Tate Modern Bookshop and ICA London.
This volume was published 29th January 2015.